`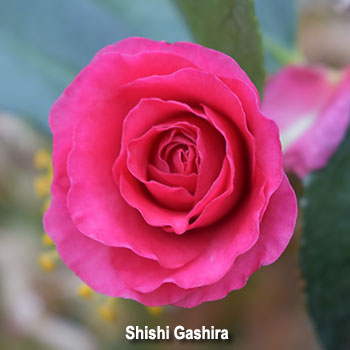 In the dark days of winter the Camellia shrubs are its empress. Their beautiful shiny evergreen leaves keep our landscapes from looking barren, but it is their beautiful offering of blooms in the fall through early spring that earn them their crown. Camellias are available in many shapes, sizes and colors. They can spread in front of flower beds, define spaces as tall background shrubs or serve as specimen focal points in landscape, and are excellent in containers.

Camellia care is pretty simple; plant in a shade to part sun area (morning sun, afternoon shade) with rich soil. As the plants mature and the canopy provides shade to roots, they can take more sun. Camellias like ample moisture and well-drained soil. Water during dry conditions to encourage new growth. Pruning should be done after the chance of frost has past in the spring and flowers have faded. 
CAMELLIA VARIETIES
Available, in season, at Tsugawa Nursery
(Updated 9/24/2021)

Anacostia Japanese Camellia
Apple Blossom Camellia - Espalier
Applel Blossom Camellia • Bob Hope Camellia
Bonanza Camellia • Coral Delight Camellia
Debutante Camellia • Fary Blush Cameliia - Espalier
Fary Blush Camellia • Glen 40 Camellia
Jurys Pearl Camellia • Kramers Supreme Camellia
Kumasaka Camellia • Magnoliaeflora Camellia
Nuccios Gem Camellia • Nuccios Pearl Camellia
Pearl Maxwell Camellia • Pink A Boo Camellia
Setsugekka Camellia • Shishi Gashira Camellia
Show-No-Sake Camelllia • Silver Waves Camellia
Swan Lake Camellia • Taylors Perfection Camellia
Tom Knudsen Camellia • Vestito Rosso Camellia
White Doves Camellia • Winters Snowman Camellia
Yule Tide Camellia

We recommend you call us to confirm availability of specific varieties. Don't see the one you want? Contact us and we'll order it for you.

CAMELLIA
TIP SHEETS
Camellias

Camellias - Empress of Winter