`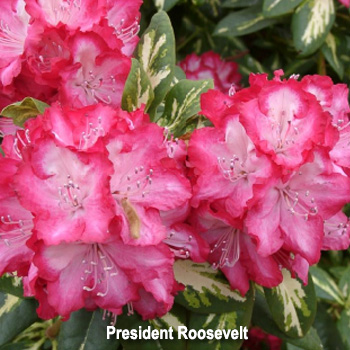 Rhododendrons are a favorite plant in the Pacific Northwest. A member of the heath or heather family, you see them in almost every yard. People love them for their beautiful colors, hardy texture, sweet fragrance and ease-of-care. They work just about anywhere, in sun or shade, in small beds and large gardens. As a shrub, they're perfect next to the house, as the centerpiece of a flower bed or even in containers.

There are over 1,000 different species within the Rhododendron genus, many of which are native to other parts of the world. Tsugawa Nursery generally carries over 50 different varieties of Rhodies (and usually closer to 100), which means you'll be able to find the colors you love and the size and bloom-time that best fits your yard.
RHODODENDRON VARIETIES


Available, in season, at Tsugawa Nursery

(updated April 2018)

DWARF RHODENDRONS
3 foot and under

PURPLE
Blue Baron • Goldflimmer
Hatchmann's Fantastica • Impeditum
Lightly Lavender • Ocean Lake
Polarnacht • Purple Gem • Ramapo

PINK
Bowbells • Bruce Brechtbill
Canadian Sunset • Cherries 'n Cream
Cupcake • Ken Janeack • Kimberly
Kimbeth • Pink Snowflake
Yaku Princess

YELLOW
Capistrano • Chikor • Golden Witt
Honey Butter • Hotei • Mavis Davis
Nancy Evans • Odee Wright
Ostbo's Low Yellow • Patty Bee
Shamrock

RED
Blitz • Cherries and Merlot
Ever Red • Fire Rim
Ostbo's Red Elizabeth • Very Berry
Whitney's Dwarf Red • Winsome

WHITE
Dora Amateis • Snowlady
Yaku Angel

ORANGE
Kaitlyn's Delight

RHODODENDRONS
4 foot and over

PURPLE
Anah Kruschke • Crater Lake
Lee's Dark Purple • Night Editor • P.J.M.
Purple Splendor • Roseum Elegans


PINK
Hallelujah • Landmark
Loderi Venus • Scintillation
Solidarity • Williams

YELLOW
Capistrano • Golden Ruby
Horizon Monarch • Unique

RED
Jean Marie • Landmark
Nova Zembla • President Roosevelt
War Dance • Wine and Roses

WHITE
Boule de Neige • Calsap
Cunningham White • Ebony Pearl

We recommend you call us to confirm availability of specific varieties.
Don't see the one you want? Contact us and we'll order it for you.