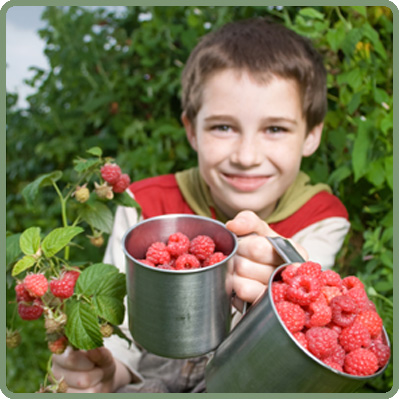 Raspberries are a delightful summer fruit, bursting with flavor, and perfect in salads, with ice cream, as juice or jam. The problem is, those little pint-sized containers just don't last long enough! You need your own crop.
What's that? You say you'd like to plant your own, but it's too much work, or you don't know how to get started? Have we got the answer for you!
Tsugawa Nursery has taken all the guesswork out of planting raspberries. We call it our "Raspberry Patch Program," and we've bundled together all the necessary ingredients for a first-rate raspberry patch. All you need to provide is the labor.
Here's what's included:
Tsugawa's Raspberry Patch Program - 2013
(Good while supplies last - limited time)

2

Posts

$7.00

9

Bareroot Certified #1 Raspberry plants


4 varieties to choose from

    

$44.97

2

3 cubic feet of Soil Building Compost                  

$21.98

1

Dr. Earth Starter Fertilizer - 4lbs

$9.99

1

Quart of Bonide Root n Grow                          

$8.99

2

20' rolls of wire

$6.00

Subtotal:

$98.93

Kit Price: (tax not included)
$79.99
*This will plant a 20 foot row. All items can be purchased separately.
Raspberry plants are Certified #1

NEED A LITTLE RASPBERRY ADVICE?
CLICK HERE TO SEE OUR RASPBERRY HELP SHEET!