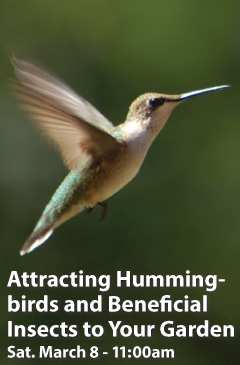 MARCH
[Print March Events Flyer]

Attracting Hummingbirds and Beneficial Insects to Your Garden
Sat. March 8, 2014 – 11:00 a.m.
Have you been waiting for the telltale whirring of the hummingbirds or watching for the fascinating and seemingly erratic flight patterns of native pollinators in your garden? If you'd like help inviting these beautiful and beneficial creatures to spend time in your neck of the woods, please join us! Our staff will share ideas for plants you can easily add to your garden and other simple ways to attract hummingbirds and beneficial insects.
REGISTER ON-LINE>>

Easy Spring Bonsai Care
Sat. March 15, 2014 – 11:00 a.m.
Your bonsai have the potential to thrive with the proper attention and care and this month is a great time to work on some of that upkeep. Let our staff teach you about proper seasonal fertilization and assist you with repotting, if your bonsai needs it. Don't forget to bring your bonsai with you! There will be a fee for any potting materials used during class. Silent observers are welcome free of charge.
REGISTER ON-LINE>>
Tried & True and Something New, Too!
Sat. March 22, 2014 – 11:00 a.m.
Taking care of plants doesn't have to consume all of your time and energy; there are some varieties that thrive with very little attention from their human caretakers. In this seminar, we'll share with you some of our favorite easy-to-care-for varieties that are tried-and-true as well as a few you may not have heard of just yet.
REGISTER ON-LINE>>
Discouraging Deer (from Eating Your Garden)
Sat. March 29, 2014 – 11:00 a.m.
We all wish there was a fool-proof way to keep deer out of our gardens entirely, don't we? There are, at least, some techniques we can use to discourage them from visiting. Join our staff as we seek to enlighten you with some ideas for convincing deer to respect your "No Trespassing" signs. Join us at 1 p.m. as we learn how to deal with moles, too.
REGISTER ON-LINE>>
Let's Talk About Those Pesky Moles
Sat. March 29, 2014 – 1:00 p.m.
We've all had days when we want to give up on gardening because mole hills just seem to be erupting on every square foot of space we've got. Let our staff ease some of your frustration by teaching you tricks and methods for lessening the impact moles have on your lawn and garden. Join us at 11 a.m. as we learn how to deal with deer, too.
REGISTER ON-LINE>>


*Seating is limited. Please register ahead online or call
(360) 225-8750. Most classes are 1-2 hours long and are FREE unless otherwise noted. Please check our website and email for updates. New classes will be posted as they are scheduled.