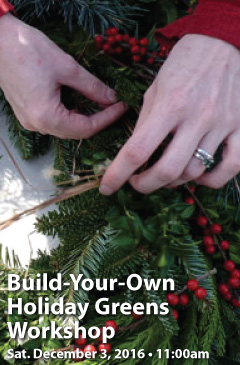 DECEMBER

Build-Your-Own Holiday Greens Workshop
Sat. December 3, 2016 – 11:00 a.m.
We're rounding the corner to the most wonderful time of the year! It's nice to add a decorative accent to your holiday table, especially when it's something you've made yourself. You'll have the option of basing your project on one of several examples that Lisa has made. She'll guide you through the process, encouraging creativity you may not have known you had as you build your own piece out of fresh holiday greens and boughs! This class is great for beginners and experienced folks alike. $35 per participant. Fee includes supplies and evergreen boughs for building a holiday piece to take home with you. *
REGISTER ON-LINE>>


*Seating is limited. Please register ahead online or call
(360) 225-8750. Most classes are 1-2 hours long and are FREE unless otherwise noted. Please check our website and email for updates. New classes will be posted as they are scheduled.