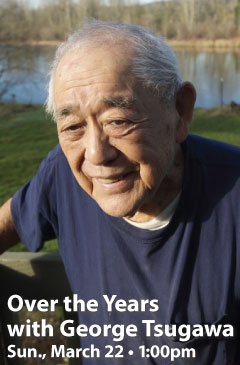 FEBRUARY
[Print February Events Calendar-PDF]
It's All About Roses!
Saturday, February 22, 2020 • 10:00am
Come join us from 10:00am to 12:00pm as Louis Rossetto from the Ft. Vancouver Rose Society shows us how to plant, prune and care for roses. FREE!
REGISTER ON-LINE>>


MARCH
[Print March Events Calendar-PDF]

March is our anniversary here at Tsugawa Nursery and 2020 marks our 39th year of business. We will be celebrating with a fun-filled weekend of workshops, seminars and giveaways! We hope that you will join us the March 20th through 22nd.
Girls Night Out
Friday, March 20, 2020 • 7:00pm-8:30pm
If you and your girlfriends are looking for a night out then this event is just for you! Come and pick out any plant and a planter, and we will pot it up for you free of charge. Enjoy the after hours time to chat with friends and ask our experts about plant culture and care. This is a girls only event, so no boys allowed!
Introduction to Bonsai
Saturday, March 21, 2020 • 9:00am
Join us for a two hour introduction to bonsai class and learn the simple truth about growing ancient trees.
Class fee: $20.00.
LEARN MORE ABOUT OUR BONSAI CLASSES>>>
REGISTER ON-LINE>>
Bonsai Continuing Class
Saturday, March 21, 2020 • 11:00am
REQUIRES PREVIOUS ATTENDANCE IN INTRODUCTORY CLASS
Advanced class. Topic TBA. Class fee: $30.00.
LEARN MORE ABOUT OUR BONSAI CLASSES>>>
REGISTER ON-LINE>>
Children's Bird Feeder Workshop
Saturday, March 21, 2020 • 11:00am-3:00pm
OPEN TO ALL AGES! Bring your kids to the nursery and help them make a pine cone bird feeder. It's an easy project they can take home to feed the birds in their own backyard. FREE!
REGISTER ON-LINE>>
Pruning Japanese Maples with Brian Tsugawa
Saturday, March 21, 2020 • 1:00pm
Japanese Maples are elegant in all seasons with delicate foliage, fine Fall color and lovely branch structure. Simple pruning can help maintain and enhance their natural form, bringing out the best for Summer and Winter viewing. Join Brian as he shows you the tips and techniques to get the most from your Japanese Maple. FREE!
REGISTER ON-LINE>>
Attracting Pollinators to Your Garden with Dana Rea
Saturday, March 21, 2020 • 3:00pm
If you've ever wondered how to attract those ever-important birds, bees and butterflies to your garden, then let Dana point you in the right direction. She will discuss the best plants and provide the information you need to help your garden become a pollinator's paradise! FREE!
REGISTER ON-LINE>>
Over The Years with George Tsugawa -
Nisei, Second-Generation Japanese American
Sunday, March 22, 2020 • 1:00pm
You won't want to miss this presentation by one of the founders and owner of Tsugawa Nursery. Join George as he talks about how the nursery was started, and how it has taken shape over the past 39 years. Listen to the family stories, and gain a better understanding of Tsugawa's nursery and the legacy of this thriving business. We hope you will be inspired by this kind and gentle man as he tells you his story from the ground up. FREE!
REGISTER ON-LINE>>
Gift Basket Raffle
Friday - Sunday, March 20-22, 2020
We are raffling off a gift basket full of great items to help you get excited about spring gardening! It will contain seeds, tools, gloves, plants, fertilizer, a gift card and many other items, too numerous to list here. Receive your raffle ticket by spending $25.00; or spend $75.00 and receive three tickets!









TSUGAWA CLASSES
*Seating is limited. Please register ahead online or call
(360) 225-8750. Most classes are 1-2 hours long and are FREE unless otherwise noted. Please check our website and email for updates. New classes will be posted as they are scheduled.