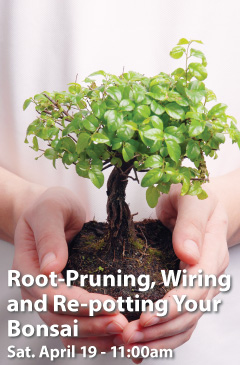 APRIL
[Print April Events Flyer]

Root-Pruning, Wiring and Re-potting Your Bonsai
Sat. April 19, 2014 – 11:00 a.m.
Bonsai trees thrive on regular love and attention but root pruning can sometimes be intimidating. Our staff will help take the intimidation out of that task as they instruct you on how best to take care of your root pruning. You'll also learn proper wiring and we'll help you get set up with a pot for transplanting if your bonsai needs it. Don't forget to bring your bonsai with you! There will be a fee for any potting materials used during class. Silent observers are welcome free of charge. Fee is dependent upon materials used during class.*
REGISTER ON-LINE>>

7th Annual Spring Potting Party
Sat. April 26, 2014 – 10:00 a.m. – 5:00 p.m.
Hooray! It's time for the first Potting Party of the 2014 season! We will provide the soil, fertilizer and hands-on assistance to help you create some exciting and colorful planted containers for your home. All you have to do is show up with your containers (and some ideas of what you'd like). We look forward to getting creative with you. This will be an "open house" event, so please come any time between 10 and 5.
REGISTRATION NOT NECESSARY





*Seating is limited. Please register ahead online or call
(360) 225-8750. Most classes are 1-2 hours long and are FREE unless otherwise noted. Please check our website and email for updates. New classes will be posted as they are scheduled.