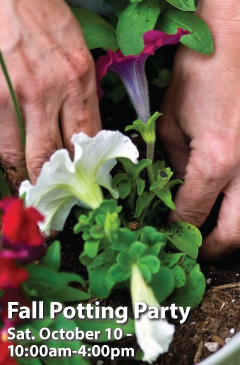 OCTOBER
[Print October Events Flyer]

Annual Fall Potting Party
Sat. October 10, 2015 – 10:00 a.m. – 4:00 p.m.
Fall is upon us and it's time to freshen up those weathered summer pots with some warm, bright fall colors! Join us for our annual Fall Potting Party!! We provide the soil, fertilizer and hands-on assistance to help you create some gorgeous fall containers for your home. All you have to do is show up with your creativity and some containers – or choose from our selection of colorful containers here at the nursery. We even do the cleanup! This will be an open house-style event so please come at any time from 10:00 a.m. to 4:00 p.m. FREE** and open to the public.

**Soil, fertilizer and hands-on assistance included in event. Fee dependent upon plants and additional materials used.

Winter Care for Mason Bees
Sat. October 10, 2015 – 11:00 a.m.
We are excited to have Master Gardener and mason bee expert Billie Bevers back to share with us how to prepare our mason bees for the coming winter. These amazing pollinators have cared for our plants and now it's time we gave them a little care back. FREE*
REGISTER ON-LINE>>

Bonsai!
Sat. October 17, 2015 – 11:00 a.m.
Join us for this informative class all about bonsai. All levels are invited. We look forward to seeing you! FREE*.
REGISTER ON-LINE>>

*Seating is limited. Please register ahead online or call
(360) 225-8750. Most classes are 1-2 hours long and are FREE unless otherwise noted. Please check our website and email for updates. New classes will be posted as they are scheduled.