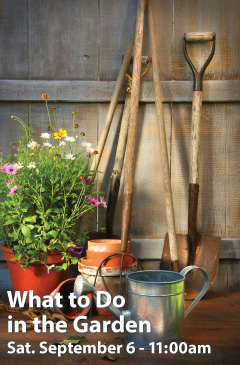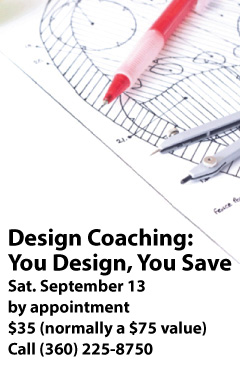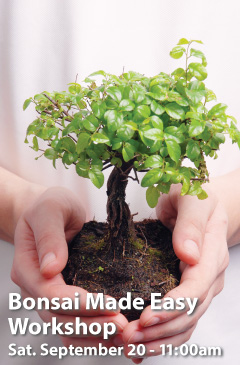 AUGUST
[Print August Events Flyer]

No events August 23rd or 30th.

SEPTEMBER
[Print September Events Flyer]
What to Do in the Garden in September
Sat. September 6, 2014 – 11:00 a.m.
Our monthly seminar on what should be done in the landscape and garden. Harvesting from the garden continues! There are seeds to collect and produce to store. Cooler weather makes this an ideal time to plant a wide variety of shrubs and trees. Bring pictures and samples for our staff to look at during the Q & A portion. This is a regular seminar on the first Saturday of every month so remember to put us on your calendar! Free.
REGISTER ON-LINE>>

Design Coaching: You Design, You Save!
Sat. September 13, 2014 – by appointment only
Would you like your landscape to be more your own style? Or does it just need a little revamping? Tsugawa Nursery is offering you a chance to do just that! Make an appointment with our team and we'll help you take control and design your own personal oasis. Before your appointment, we'll send you a packet on how to measure your design area. Plan to come in an hour prior to your appointment and peruse our garden center, taking notes on what plant materials you would like to include in your design. During your one-on-one hour-long appointment a member of our team will work with you to help you design the landscape of your dreams. After your appointment, another team member will walk you through the garden center to help you find the plant material to make your dream a reality. Cost: $35 per appointment. (Normally a $75 value).
TO REGISTER, CALL (360) 225-8750
Bonsai Made Easy Workshop
Sat. September 20, 2014 – 11:00 a.m.
Have you ever encountered a plant and wondered immediately about its Bonsai potential? The Tsugawa Bonsai team will help you refine your ideas and understand the qualities and traits to look for when selecting a plant for your next Bonsai project. You'll go home with a Bonsai-in-training and an enhanced ability to identify future Bonsai candidates. Observers are welcome, free of charge. Space is limited to 25 participants. Cost: $35 per participant, includes starter Bonsai plant and pot as well as potting supplies to complete your project.
REGISTER ON-LINE>>
Spruce Up Your Fall Containers
Sat. September 27, 2014 – 11:00 a.m.
Are your containers overgrown, out-of-hand or looking tired? It's time to rip out the old and plant something new! Our container professionals will share some ideas for the perfect plants to help keep your container gardens looking gorgeous through fall and into the winter months. Free.
REGISTER ON-LINE>>

*Seating is limited. Please register ahead online or call
(360) 225-8750. Most classes are 1-2 hours long and are FREE unless otherwise noted. Please check our website and email for updates. New classes will be posted as they are scheduled.