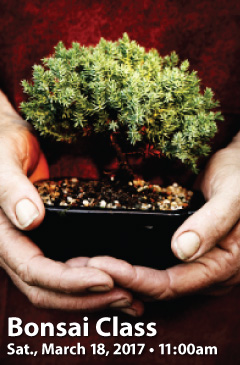 MARCH

Bonsai: Root Over Rock Workshop
Saturday, March 18, 2017 - 11:00am
Join us and learn about this fun, relaxing and artistic hobby. All levels are invited. We look forward to seeing you! Cost: $35.00; includes tree, rock, pot and soil. Limited to 10 participants.*
REGISTER ON-LINE>>

*Seating is limited. Please register ahead online or call
(360) 225-8750. Most classes are 1-2 hours long and are FREE unless otherwise noted. Please check our website and email for updates. New classes will be posted as they are scheduled.