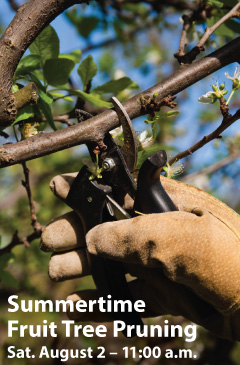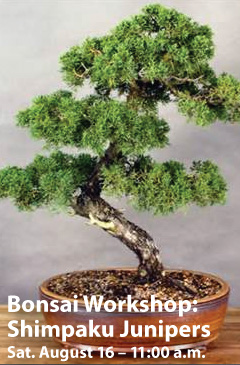 AUGUST
[Print August Events Flyer]

Summertime Fruit Tree Pruning
Sat. August 2, 2014 – 11:00 a.m.
Did you know there's an alternative to dormant season pruning of fruit trees? Summer pruning has some definite benefits, not the least of which is pruning during more pleasant weather! Jim will explain more of the benefits as well as walk you through the process and highlight some tools and equipment along the way. This will be a hands-on seminar so you can really get in there and learn by doing. Free.
REGISTER ON-LINE>>

Bonsai Workshop: Shimpaku Junipers
Sat. August 16, 2014 – 11:00 a.m.
The Shimpaku Juniper is considered a classic in the Bonsai world. This workshop is an excellent one for beginners and experienced artists alike – a chance to get back to your roots. Join our knowledgeable staff for an enjoyable morning with other Bonsai enthusiasts and take home a new project you can be proud of. Observers are welcome, free of charge. Space is limited to 25 participants. $35 per participant, includes starter Bonsai plant and pot as well as potting supplies to complete your project.*
Class fee: $35.
REGISTER ON-LINE>>





*Seating is limited. Please register ahead online or call
(360) 225-8750. Most classes are 1-2 hours long and are FREE unless otherwise noted. Please check our website and email for updates. New classes will be posted as they are scheduled.