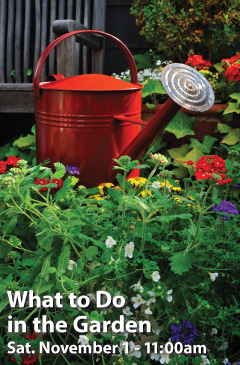 NOVEMBER
[Print November Events Flyer]

What to Do in the Garden in November
Sat. November 1, 2014 – 11:00 a.m.
Our monthly seminar on what should be done in the landscape and garden. If you had any doubts about the arrival of fall, November can bring you back to reality. This month is a little less hectic than the rest of the year, though there are still tasks to keep up on. Take advantage of some downtime to dream big about plans for spring. Bring pictures and samples for our staff to look at during the Q & A portion. This is a regular seminar on the first Saturday of every month so remember to put us on your
calendar! Free.*
REGISTER ON-LINE>>

Wintertime Beauty - Conifers, Barks and Berries
Sat. November 8, 2014 – 11:00 a.m.
It's almost winter and you may find yourself wondering what excitement could possibly be found in the landscape during these cold, wet months. Don't despair! Brian Tsugawa will give you a great new perspective as he shares some of his wintertime favorites. Free.*
REGISTER ON-LINE>>

Bonsai for the Holidays Workshop
Sat. November 15, 2014 – 11:00 a.m.
A Bonsai you've created or put together yourself is such a unique and personal gift to give. Let our staff help you create a special holiday gift for the Bonsai-lover in your life -- or a holiday treat for your own collection! Space is limited to 25 participants. The fee for this workshop will be based on the cost of materials used. Silent observers are welcome free of charge.*
REGISTER ON-LINE>>

Build-Your-Own Holiday Greens Workshop
Sat. November 22, 2014 - 11:00 a.m.
We're rounding the corner to the most wonderful time of the year! It's nice to add a decorative accent to your holiday table, especially when it's something you've made yourself. You'll have the option of basing your project on one of several examples that Lisa has made. She'll guide you through the process, encouraging creativity you may not have known you had as you build your own piece out of fresh holiday greens and boughs! This class is great for beginners and experienced folks alike. $35 per
participant. Fee includes supplies and evergreen boughs for building a holiday piece to take home with you.*
REGISTER ON-LINE>>

We wish you and your family a cozy and happy Thanksgiving!



*Seating is limited. Please register ahead online or call
(360) 225-8750. Most classes are 1-2 hours long and are FREE unless otherwise noted. Please check our website and email for updates. New classes will be posted as they are scheduled.