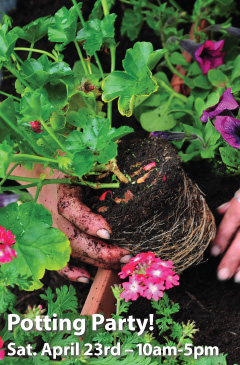 APRIL
[Print April Events Calendar-PDF]
Bi-Annual Potting Party
Sat. April 23rd – 10:00 a.m. to 5:00 p.m.
It's our favorite time of year. It's Potting Party time! We will provide the soil, fertilizer and hands-on assistance to help you create some exciting and colorful planted containers for your home. All you have to do is show up with your containers (and some ideas of what you'd like). Don't have a favorite container? No worries, we have some great ones to choose from. We look forward to getting creative with you. FREE** and open to the public. **Soil, fertilizer and hands-on assistance included in the event. Fee dependent upon additional materials used.

This will be an "open house" event, so please come any time between 10 a.m. and 5 p.m.

*Seating is limited. Please register ahead online or call
(360) 225-8750. Most classes are 1-2 hours long and are FREE unless otherwise noted. Please check our website and email for updates. New classes will be posted as they are scheduled.