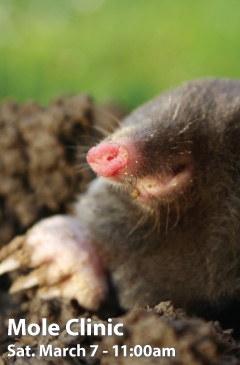 MARCH
[Print March Events Flyer]
Mole Clinic
Sat. March 7th – 11:00 a.m.
Those pesky moles can create havoc in your garden and landscape. Learn how, what, where and when is the best time to try to tame those critters. We will share the best methods of how to convince them to find a new home… that is not your landscape. Free.*
REGISTER ON-LINE>>

Bonsai!
Sat. March 21st – 11:00 a.m.
Join us for this informative class all about bonsai. All levels are invited. We look forward to seeing you! Free.*
REGISTER ON-LINE>>

Liven Up that Lawn
Sat. March 28th – 11:00 a.m.
Was winter a little unkind to your lawn? When was the last time you thatched or limed? Or are you unsure what that even means? This time of year brings a lot of questions about lawns especially when you have beautiful goals for your landscape. Join us as we discuss how to get your lawn back into shape and share how to maintain its healthy and vibrant greenness. Free.*
REGISTER ON-LINE>>




*Seating is limited. Please register ahead online or call
(360) 225-8750. Most classes are 1-2 hours long and are FREE unless otherwise noted. Please check our website and email for updates. New classes will be posted as they are scheduled.