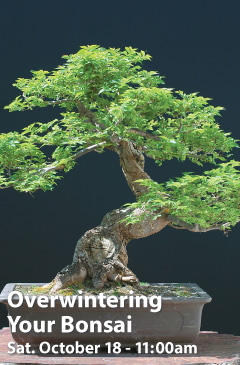 OCTOBER
[Print October Events Flyer]
Overwintering Your Bonsai
Sat. October 18, 2014 – 11:00 a.m.
Even though they are small, Bonsai need to experience a dormant period during the year just as larger trees do. This Bonsai seminar will help you prepare your miniature work-of-art for the winter months. Our staff will explain the best way to prepare and a variety of options for keeping your
Bonsai cozy when the temperature drops. Be sure to bring your Bonsai along! Free.*
REGISTER ON-LINE>>

Pruning Ornamentals with Brian Tsugawa
Sat. October 25, 2014 - 11:00 a.m.
Many of us love Japanese maples and dwarf conifers for the beauty, elegance and strength they bring to the landscape. The Japanese maple exudes elegance in all seasons, with delicate leaves, fine fall color and lovely branch patterns. Dwarf conifers show their powerful structure and quiet beauty during winter. Simple pruning of both types of ornamentals can help maintain and enhance their natural forms. Join Brian Tsugawa as he shows you tips and techniques to get the most from your Japanese maples and dwarf conifers. Free.*
REGISTER ON-LINE>>





*Seating is limited. Please register ahead online or call
(360) 225-8750. Most classes are 1-2 hours long and are FREE unless otherwise noted. Please check our website and email for updates. New classes will be posted as they are scheduled.