During this challenging time, Tsugawa Nursery will post updated information of interest to our customers regarding items and policies in our store. Please refer to this page or go to our Facebook page for up-to-date information.
---
Friday, May 1, 2020
To our wonderful customers and friends:
As we enter our third month of social distancing and enhanced cleaning practices, we want to again thank you for your patronage, your patience and your support. You are the reason we do what we do, and helping you during this challenging time is an honor and a responsibility we take very seriously.
We are so proud of the efforts that our team members make every day to ensure our shelves are full, your questions are answered and your purchases are completed. Without them, we couldn't continue to serve you, and that has forced us to make some changes in our business practices.
Beginning tomorrow, Saturday, May 2nd, Tsugawa Nursery will temporarily suspend email orders, special orders and emailed delivery orders until further notice. In addition, we will no longer offer curbside pickup. This was a difficult decision to make. We know many of you have used these services. But, as the number of customers we serve continues to grow, we are concerned about the health and well-being of our team members. We want to make sure they stay safe and have time to rest before each new day. The only way to do that is to reduce the services that we offer. We will, of course, fill any orders that have come in by May 1st.
We will continue to assess these changes as the situation evolves, but for now, we thank you for your loyalty and understanding. You may continue to send inquiries to sales@tsugawanursery.com, and we will answer as quickly as possible.
Stay well,
--The Tsugawa Family and the Staff at Tsugawa Nursery
---
Tuesday, April 21, 2020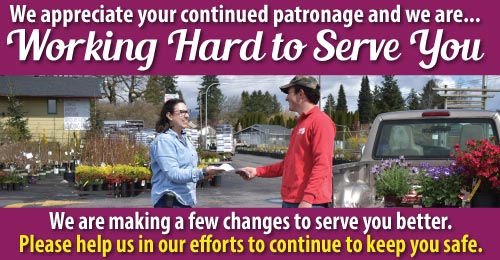 CHANGE IN STORE HOURS
To our wonderful customers and friends:
In order to ensure the continued safety of our customers and staff, we are making a few changes to our hours of operation and the procedures we employ to fill orders and reply to inquiries.
Beginning tomorrow, Wednesday, April 22nd, Tsugawa Nursery is temporarily changing our store hours to 9:00am to 3:00pm Monday through Saturday and 10:00am to 3:00pm Sunday. We will be using the additional time after hours for restocking our inventory and implementing more cleaning procedures to keep our customers safe and to provide a better shopping experience.
Due to the high volume of phone calls we will be unable to answer inventory questions over the phone. For all other inquiries we recommend you send an email to sales@tsugawanursery.com and we will get back to you as soon as we can.
We thank you for your loyalty and understanding. You are all very important to us, and we know that without you, we would not be here.
Stay well,
--The Tsugawa Family and the Staff at Tsugawa Nursery
---