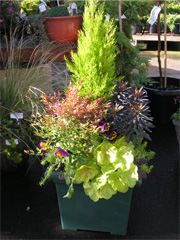 HMMMM….. What to plant? What to plant? When your hanging baskets and container gardens start to get tired and spindly it's time to take out all those overgrown plants and replace them with something new and exciting. You are probably wondering, what I can plant? Are my only choices Pansies, Violas, Cabbage and Kale? Do I have any other choices? Our answer is YES! Not only do we offer all of the above, we also have a select group of cold tolerant annuals such as: African daisy, Million bells, and Coprosma. We love mixing dwarf conifers, ornamental grasses, small shrubs, and perennials into our palette of plants. They add great structure, color, and texture.
When putting your containers together it is usually easiest to start with your "Thriller". Remember Thrillers are big, attention getting stars. Usually tall upright plants with outstanding qualities: Colorful foliage, Intriguing shapes and/or Dramatic flowers. Some choices are: Sky Pencil Holly, Gold Cone Juniper, Red Majestic Filbert, Blue Surprise Cypress, Gold Bar Miscanthus, New Zealand Flax, Pee-gee Hydrangeas and Peve Minaret Cypress. These are just a small handful of choices.
The next step is to figure out what to use for the "Fillers". Fillers add mass and textural contrast or they can be a colorful counterpoint to surrounding plants. For Fillers Yellow and Orange African Daisy, Little Rascal Holly, Bergenia, Coprosma, Sungold Cypress, Heuchera, Goldfinger Liberita, My Monet Weigela, Moonbay Nandina, Kaleidoscope Abelia, Pansies and Violas, and Cabbage are great choices.
Okay, now we have figured out what we are going to use as a Thriller and Filler, the next step is to figure out what we are going to use as a "Spiller". Spillers sprawl over the side of the container softening its edges and tumbling toward the ground. Some choices are: Ivy, Shore Juniper, Blue Chip Juniper, Million bells, Persian Chocolate Lysmichia, Lamium, Creeping Rosemary, Vinca and Georgia Blue Veronica to name a few.
We have our Thriller, Filler and a Spiller; it is time to plant. When planting containers we use and recommend: Gardener & Bloome Blue Ribbon Potting Soil, Osmocote Fertilizer and Bonide Root N Grow Stimulator. Fill your pot half way with Blue Ribbon Potting Soil and add Osmocote Fertilizer, please follow manufacturer's recommendations, finish filling container with Blue Ribbon Potting Soil. Plant your plants and then water them in really well with Bonide Root N Grow Stimulator.
The best advice we can give you is to just have fun. Your choice of plant material is limitless. Choose plants that appeal to you. Use them in your pots for a couple of years and then plant them into your landscape. Fall containers can extend the season's color, texture and visual interest to your patio, balcony or entryway for months to come. Visit us at Tsugawa Nursery we have lots of ideas to inspire you, or if you would prefer, we can plant your containers for you. Here's a few container Recipes. >>