`

In March 1981, Mable Tsugawa opened the doors to Tsugawa Nursery. She had no experience running a plant nursery, but her determination, willingness to learn, and never-give-up attitude became the foundation of a 40 year success story...and an inspiration to all of us.
This year, we celebrate Mable's amazing legacy with a look back at some of the pictures, articles and events that have appeared over the past four decades. We will continue to post new content to this page through the year. Join us as we celebrate Mable, George and the entire Tsugawa family.
---
APRIL 1, 2021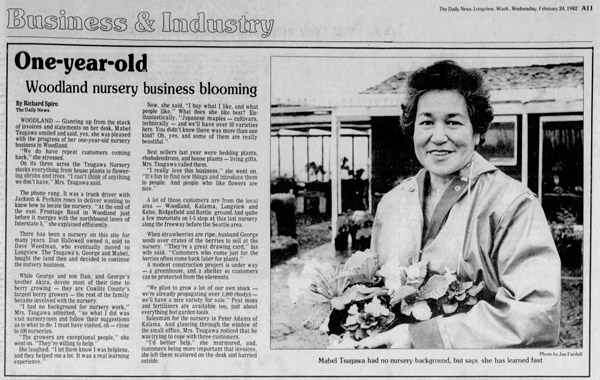 From February 24, 1982, Richard Spiro of the Longview Daily News interviewed Mable Tsugawa on the occastion of the first anniversary of Tsugawa Nursery. The article paints an interesting picture of the early days of this fledgling business and the woman who turned a dream into reality.
CLICK HERE (OR CLICK ON THE PICTURE) TO READ THE ARTICLE
---
APRIL 1, 2021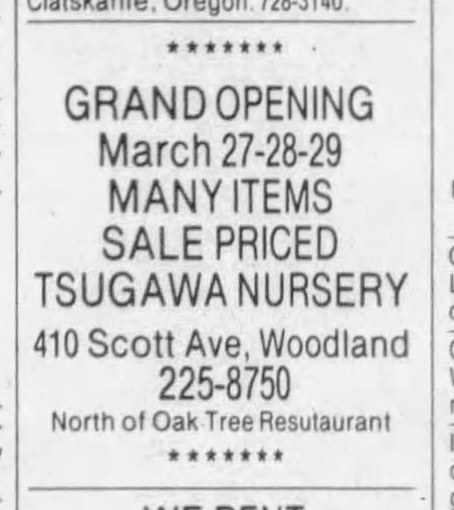 A collection of advertisements. Check out some of the early newspaper ads from Tsugawa Nursery on our Advertisements page.
CLICK HERE TO SEE THE ADVERTISEMENTS PAGE
---
MARCH 1, 2021
Garden Time, the weekly local gardening show also has a companion magazine. In their March 2021 issue, they take a look at the 40 year history of Tsugawa Nursery in a loving tribute to Mable Tsugawa and the legacy she has left for all of us.
---